September/October 2017
Heaven to nature lovers , endless of hiking trails,which consist of climbing,ladders and adrenalin.
drinking a glass of wine on a beautiful lake , after a long hike , in the middle of nowhere , climbing to the top of mountains and watching some hut on the pike and moving on from there with a big smile on your face.
as a person addicted to hiking and nature I find myself in uncommon country ,a shy country in the middle of Europe on the top of the high tatras , or a big canyon.
I stayed in a 4 different places in Slovakia – Kosice, Poprad, Liptovsky Mikulas and Bratislava.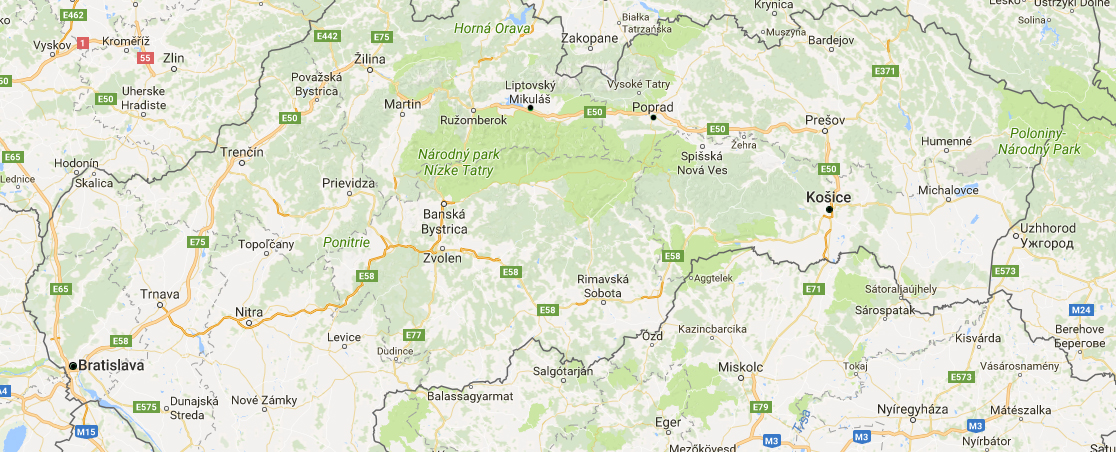 Transportation from Kosice airport to the city-
there are shuttles , but Slovakia is so cheap that actually I think that the best way get to the city is with taxi – the taxi will cost you around 10 Euro to the city centre (about 10-15 minutes)
Kosice
I started my Slovakia trip in Kosice – the second biggest city in Slovakia , Kosice located in the east of Sovakia, a modern city, with great boulevard , fine restaurants ,and a great architecture.
I stayed in Kosice only one day , and it is totally enough .
almost all of the things is kosice located in the same street-"Hlavna"
you can find there a lot of attractions such as – St. Elisabeth Cathedral – there is an option of climbing with the stairs to the top of the cathedral to get a beautiful look over the city (around 120 stairs),the view is really outstanding there , with honesty I stayed there for a whole hour!
The whole Hlavna steet is full of nice gardens and there is a musical fountain – the musical fountain is actually on the back of St. Elisabeth cathedral , it is a really nice place just to sit and realx , with the water sounds , to feel the atmosphere around you.
close to there with a few minutes of walk you can find "Mestsky park" a nice park to walk (This park is near to Kosice train station)
In the end of the Hlavna street you can find a nice mall "Aupark" – there you can buy a local sim as I did .
lets talk about food , there are a great resutarnts in Kosice and of course most fo them in Hlavna street, I would like to recommend of two great places  the first one is  "Pizza Cafe Napoli " yea we still in Slovakia , but oh they know how to make a great italian dishes, with a great prices , so tasty!
and another great resturant –" cathedral caffe crape "  hint! Its in front of the cathedral as you can guess , and yes they serve crapes – so unique and tasty, interesting kind of crapes in a small price. It was great!
Poprad – High Tatras

The main purpose of Slovakia trip was to hike in the Tatras – and poprad was the base of my hiking in the high Tatras- from there I started a three days of hiking in three different trails :
1)Strbske Pleso – Popradske Pleso (razcetie) – Strbske Pleso
2)Stary Smokovec-Zamkovskeho Chata- Hrebieok-Stary Smokovec
3)Sucha Bela – Pod Vtacim-Klastorisko Chata –Podlesok
Before I will talk about my trails – lets talk about Poprad .
Poprad is a small city with a train to the mountains , and a intercity train.
through the city passes a nice river , and you can find there a some hot polls , and a great resaurents .
Day 1 in the High Tatras(day 3) – Strbske Pleso – Popradske Pleso (razcetie) – Strbske Pleso
I took a train to Strbske Pleso – where is my hike began (around 1 hour from Poprad with a train). You walk from the train and all you can see is that you are surrounded by imperssive mountains that you can barely see the peak .
My trip began in Strebske Pleso – a beautiful lake , it is really hard to describe this place , looks almost like heaven
from there I continued with the red line in this line, (all Tatra trails are marked well) you will find your self walking between large trees , mountains, on bridges above rivers with a view that you can barely imagine,the red line will take you to Popradske Pleso – another great lake, I have to confess it was very hard to stop take photos over there ,I stopped there on the lake for lunch & wine on the side of the lake.
I ate there the local food – actually in the "chatas" (places for the hikers to stop and rehydrate) usually you will find a local food .
in that day I ate there a traditional slovak food is called "Bryndzove Pirohy"
it is a Dumplings filled with cheese (usually sheep cheese) It was a very tasty dish.
from there I moved back to Strbske Pleso with the green line and than again with the red line untill I get back to Strbske Pleso station .
in this day I realize what a great time I was about to do in the high tatras , this trails was outstanding , beautiful , breathtaking and I enjoyed of every moment over there.
This trail will take you around 4 4 hours without stops.
at night I went back to poprad , and there I went for dinner – in some great italian restaurant " la primavera" i really recommend on this one !
Day 2 in the high Tatras(day 4) – Stary Smokovec-Zamkovskeho Chata- Hrebieok-Stary Smokovec
I took a train from poprad tatry to Stary smokovec – this town so beautiful , truly it is mostly town for tourist and you can feel it , but the town beauty is outstanding.
the trail starting from this town , and you have two options
1)taking a funicular to "Hrebieok"- its basically takes you 265 meters up in the mountain to the official start of the trail (it will cost you 9 euro) you should start your day.
2)option 2 is to start near the funicular you need to follow the green line up the
mountain , the option that I chose is to climb this 265 meter to "Hrebieok" and to
continue to the rest of the trail (that 265 climbing will take you around 40 minute
walk – it is a easy road)
from this point to matter which option you choose you have a walk through a beautiful waterfalls ,I followed the green line until it was brought together with the blue one – in the blue one a follow the way to "Nad Rainerovou Chatou" it is a small hut to stop a refill – you can find there snacks or cold beer and so .
from "Nad Rainerovou Chatou" (1295 meter) I continue to another chata (hut) that I knew that the view on the way to there is totally worth that – you need to countinue with the red line , a 200 meter climb meters with the best view I ever see, it is not the easiest climbing but do not miss it!
when you arrive to "Zamkovskeho Chata" (1500 meter) you will see a big hut- with a local food restaurant , in the middle of nowhere , I think that it was one of the best experiences, to reach this "chata" around october its pretty cold , to drinking a Hot Chocolate, to eat the local food and enjoy the company of another hikers .
the local food that I  ate that day –"bryndzove halusky" its like gnocchi with sour cream and meat,it was great!
from there I continue all the way down with the red line untill I reach the funicular back to Stary Smokovec – from Hrebienok I decided to take the funicular after long day.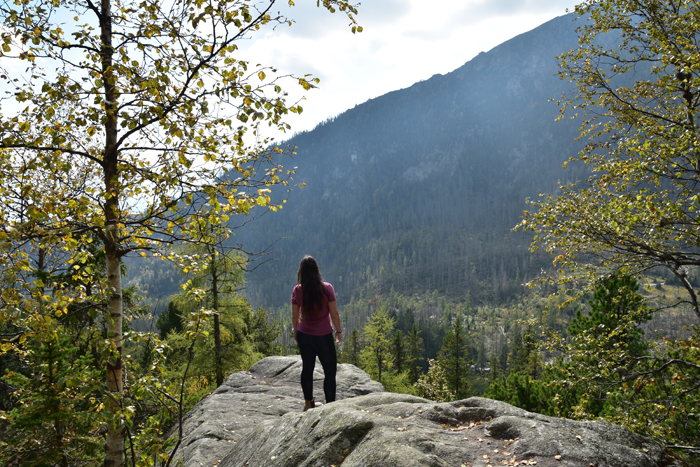 when we get to the town we decided to pamper ourselves with a good coffe and cake , so we go to "Kaviaren Zlata Brana" a small cake and coffee place – it was a great choice !
Day 3 around the high tatras (day 5) Sucha Bela – Pod Vtacim-Klastorisko Chata –Podlesok
as I mentioned I stayed in poprad with no car.
Sucha bela is a trail in the slovak pradise – you can find in the slovak pradise more trails , but the Sucha Bela is the most recommended.
so without a car it is a little bit hard to reach this area – so I had a two option from poprad :
1) taking a bus with a problematic schedule one in a few hours (06:30 am and the next one 10:30 am)
2)taking a cab – this option turned to the better option – you control your time and it is not to expensive (17 euro- 25 minute long)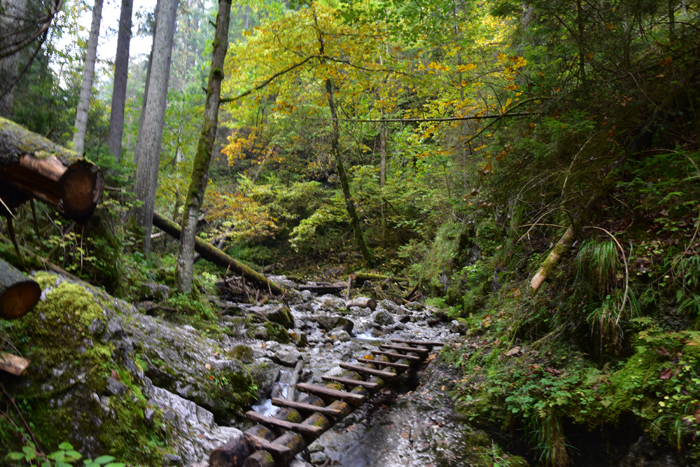 We took cab from poprad to Podlesok – where the Sucha bela start- the sucha bela is the green line .
the sucha bela is a beautiful canyon with a different climbing accessories like:
Ladders, cords, rods, wooden bridges and more, its a little bit challenging in some point but I enjoyed in every moment there.
the walking in the sucha bela is a little bit wet- the water is about your shoe high- high shoe's recommended .
the sucha bela is about two hours walk – and in the end of the green line you will reach the yellow one I walked all the way in the yellow until I saw a cross – one way back to podlesok – and other way to Klastorisko Chata of course I countinued to the chata (hut) to get some rest , you have a the option there to stop and fill your battry with some local food and a drink , and also a nice place to sit , we stopped there and ate local food and this time around it was a sweet one.
Hot flavored dough with extars acroding to your taste .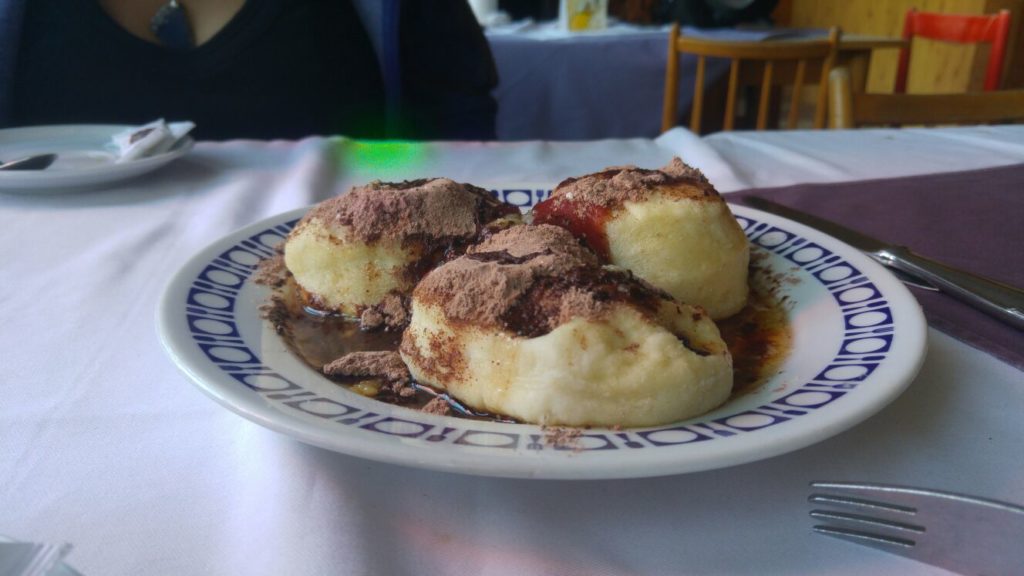 after we get some rest enough we back to podlesok via the green – yellow –red lines backing to podlesok from Klastorisko chata will take around one a half hour.
the whole day will take around 5 hours walk (13.5 kilometers)
after this long day we went back to poprad by cab, and we went straight to warm pools in poprad – its came just in the right time , after a hard three hiking day , our legs needed some rest , so we go to "Aqua park" it is a big pools center – with cold and hot pools , spa center and so.
you can find there pools with a bar , Massage pools, musics pools and so !
Liptovsky Mikuláš

A small city in the low tatras – we stayed there only one night actually in the one of the best places to sleep – we slept out side of the city (10 minutes from the city) in a place that called " apartmany hilson jasna" with a beautiful view from every where to the tatras – one side of the place looking to the high .tatras and the other side looking to the low tatras – a clean view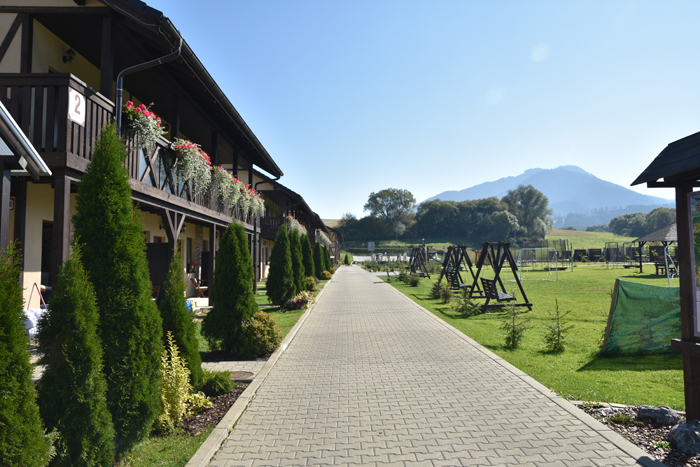 the best place to start your day there is going to "Biela Put" up with the mountains – basiclly it is a great place to do a ski – but I been there in october so there is no snow ..
you can find there a funicular to the top of the mountians it will cost you around 19 euro full price – to see the all valley under you and a great view ( in a clear day) .
also you can find there the hidden lake – it is a hidden lake between the trees there is a nice shy lake , a great place to sit and relax !
in Biela put you can also find a great resturants , and another places to hike .
in the city you can also find a nice lake – bigger then the hidden lake.
from liptovsky mikulas we continued to Bratislava by train just for one night and continued our trip to Budapest (wait for the next post!) .
you have the option to take a bus from Bratislava to another great countries like Austria , Czech Republic, Hungary and more – the busses very cheap around 8 euro with baggage.
we took the bus to Budapest with "Regiojet" and it was great!
Why did I pass traveling in Bratislava ?
Acrodding people opinions , in the internet and the local in Slovakia I understood that it is really a waste of time, , and there is nothing really special about it .
my recommend to you is to pass Bratislava (as I did – only sleeping) but if it is important to you – take a few hours in the city – to be sure that you do not miss anything.
my opinion is to invest your time in other interesting places!
When to visit :
– The official tourist season in Slovakia is from the end of May until the end of October.
– It is possible that outside of the tourism period, some of the sites will be closed.
– Between July and August – this is also the most expensive period.
-I traveled there in the end of september – the weather was just great!
Have fun!